See all posts
Cloud Security Seminar
O3 Cyber invites you to Deichman Bjørvika for our first ever Cloud Security Seminar. The seminar starts at 12:00 and ends at 15:30. Following the event we are hosting a get-together at Hammerhai to keep the good conversations going. We have set aside plenty of time for discussion and networking in the breaks between the presentations. Language of the talks is specified in the program. We only have 150 spots, so first come, first served. If you have booked a ticket but cannot attend, please cancel it so others can get your spot.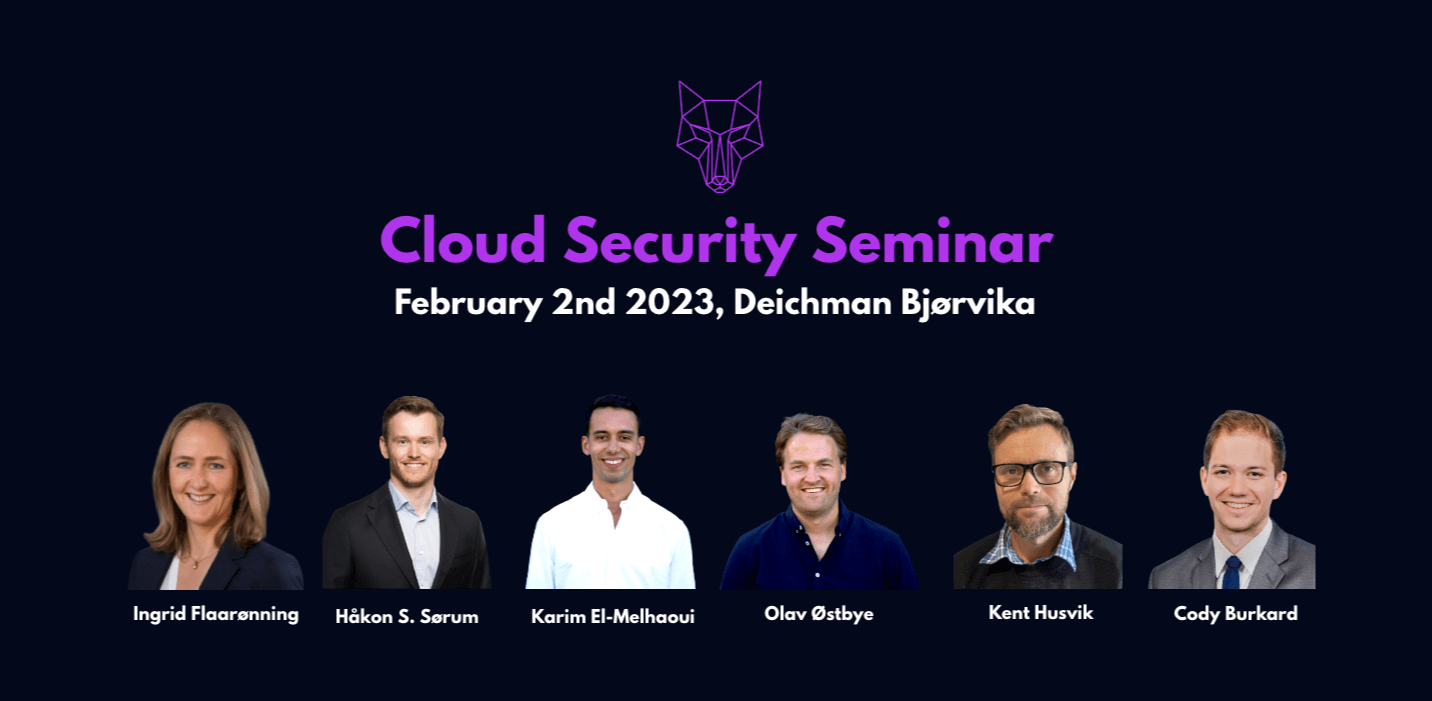 Program:
12:00 - 12:10: Opening | Olav Østbye -- [English]
12:10 - 12:40: Surviving in the cloud security threat landscape | Karim El-Melhaoui -- [English]
12:40 - 13:10: Operationalize security in modern Azure deployments PaC | Cody Burkard -- [English]
13:10 - 13:30: Break
13:30 - 14:00: Rethinking your approach to a Cyber Security Defense | Olav Østbye -- [Norwegian]
14:00 - 14:30: Threat modeling in a cloud world | Håkon Nikolai Stange Sørum -- [Norwegian]
14:30 - 14:50: Break
14:50 - 15:30: Cloud Security Panel Debate led by Olav - Cloud Security transformation challenges | Ingrid, Kent, Karim, Håkon - [Norwegian]
15:30 - 15:40: Closing and summary | Olav Østbye -- [English]
After the conclusion at Deichman: Departure to Hammerhai for those who wish.
Tickets:
https://www.eventbrite.com/e/o3c-cloud-security-seminar-tickets-477996439217
Q&A
How do I find Deichmansalen?
Enter the main entrance to Deichman, and take the stairs down into the basement on the left directly after the door; you will find the hall straight ahead in an extension of the stairs. If you can't find it, ask someone who works at Deichman.
Will there be food and drinks?
There will be no serving at Deichman. We chose to arrange an get-together at Hammerhai instead.
How do I get to Hammerhai?
Hammerhai is a 5-minute walk from Deichman, use google maps or follow the people!
Will the conference be accessible remotely?
No, only physical this time.